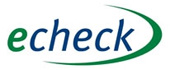 eChecks are a popular deposit at online casinos
eCheck is simply a digital version of a traditional check, containing exactly the same information. Online casino eCheck deposit is authorized by the issuing bank so the online casino can accept it instantly and you can start playing roulette for real money within minutes from completing the transaction.
This was the most popular deposit for US casino fans for many years, though the number of operators able to accept eChecks has significantly declined but you will still find few where you can pay with eCheck as well as withdraw your winning via casino issued eCheck.
Online Casino eChecks Deposits
The majority of eCheck online casinos list all of their available payment options on their site
You'll be able to quickly find out if eCheck deposit is available at your casino of choice. One of the advantages of using an eCheck is the fact that this deposit method is one of the safest around. eChecks use the latest technology in encrypted signatures, which makes any kind of forgery virtually impossible, which is not the case with debit or credit cards.
eCheck Deposit – Signup Process
Having found a casino, first, you'll need to register. This is normally just a case of entering your name, address, and e-mail address. Some sites will require you to verify your e-mail address by clicking on a link that they've sent you.
eCheck Deposit – Step By Step
Step 1: Enter the nine-digit routing number in the bottom left of the eCheck – this will identify your bank or financial institution
Step 2: Enter the numbers to the right of the routing number. This might include the account number, the bank name or the check number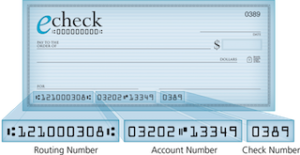 Step 3: You may be asked to confirm the financial institution or your ZIP code
Step 4: Lastly, you'll submit your payment and be ready to play for real money
In some cases, your funds may be available instantly when making eCheck deposit at online casino. Although, in some cases, your funds may take three or four days to clear just like a traditional check. You will not be able to withdraw your money until the check has fully cleared, and casinos will have security in place for 'chip dumping' using poker games.
Online Casino – Deposit Delay
Unfortunately, even if a site states that using an eCheck is an available deposit option, the actual transaction may not go through. This is specifically a problem for US users, after the introduction of the UIGEA legislation in 2006, which makes payments from financial institutions to gambling sites problematic at times. In this scenario, contact the customer services team of the casino who will do their utmost to help.
eCheck  – Fees And Withdrawals
Important: Always check if there are any fees involved when funding your online casino with eCheck
Check the terms and conditions before depositing with an eCheck. Some online casinos will charge for every online eCheck deposit, some will charge for deposits under a specified amount and others will not charge any fees at all and these are the best casinos to play.
When withdrawing via an eCheck, you normally be asked to complete the verification process (one time only) to prove you are who you say you are. The funds will clear in your account in around three to five days. The eCheck withdrawal process is simple and straightforward.
eCheck Roulette Deposit Bonus
Remember: Be sure to check out the roulette deposit bonus before using eCheck to make a deposit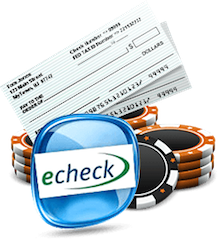 The majority of sites offer a signing up bonus which comes in the form of either a free play or funds added to your account. Additionally, you'll find that some sites also offer bonuses for certain payment types, so be sure to check out if an eCheck deposit applies here. Many of these bonuses require a code to be submitted at the point of deposit, so failing to do so can be somewhat costly. It is also worthwhile comparing the 'play-through' rates at different casinos.
eCheck – Alternative Payment Methods
If having trouble depositing with an eCheck there are several alternatives you can use
US based players: Credit cards such as Amex and Visa, bank wires or money transfer services such as the Western Union or MoneyGram are excellent options to make a deposit at an online casino.
International players: E-wallet solutions like PayPal or Skrill are excellent as you'll be able to fund directly using your checking account. You'll then transfer the funds directly to the casino from your e-wallet. Using an e-wallet has the double advantage of being able to move money from site to site quickly and easily and you'll not have to supply the casino with your financial details.
Pre-Paid Credit Cards
Many casinos also accept pre-paid cards such as Visa card, which you'll load with a specific amount to a card using your checking account and then deposit this amount to the casino. If you are using one of these from the US you'll need a brand which allows international purchases.