Genetic Roulette
'Genetic Roulette – The Gamble of our Lives' is a book written by American consumer activist, Jeffrey M. Smith, which was later made into a film/documentary. Smith, who was born in 1956 is a long-time advocate against genetically modified food and has worked with organic food marketers and alternative health product promoters in his fight.

About Jeffrey Smith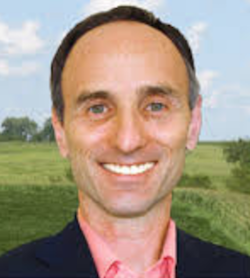 Smith is a New York Native and until 1996 he was a marketing analyst. Since then, however, he has made it his mission to travel the world and preach about genetically modified crops. Speaking to political leaders, consumer groups, and physicians about his view that genetically altered crops can cause serious health problems in a human diet.
Smith is seen as something of a champion by a number of US organic food companies and has achieved what he classes as several small victories. These include persuading a number of retailers and consumers to shun products derived from cows given biotech supplements, US States and local governments restricting biotech crops, and bans on biotech crops in many countries around the world.
Genetic Roulette – The Book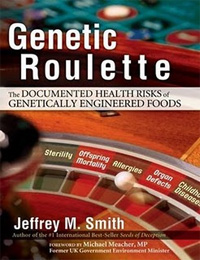 This is the second book by Jeffrey Smith, the first being 'Seeds of Deception' in 2003. Genetic Roulette was published in 2007 and features a foreword by Michael Meacher MP, the former UK Government Environment Minister.
The book features the following summary:
"This book, prepared in with input by more than 30 scientists, is for anyone wanting to understand GM technology, to learn how to protect themselves, or to share their concerns with others. It is presented in the clear, accessible style that made Jeffrey Smith's Seeds of Deception the world's best-selling book on genetically engineered foods. As the world's most complete reference on the health risks of GM foods, Genetic Roulette is also ideal for schools and libraries."
On the popular website 'Goodreads' the book has an average rating of 4.24 out of 5 with 49% of readers awarding the book 5 out of 5, and 96% of readers stating that they liked the book.
Genetic Roulette – The Documentary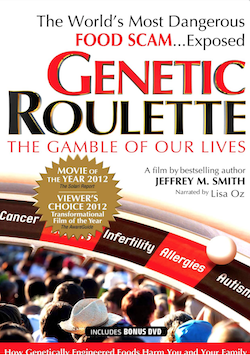 The film was released in 2012 and narrated by Lisa Oz and is highly critical of genetically modified food. Here is the plot summary at the Internet Movie Database:
"When the US government ignored repeated warnings by its own scientists and allowed untested genetically modified (GM) crops into our environment and food supply, it was a gamble of unprecedented proportions. The health of all living things and all future generations were put at risk by an infant technology."
Exposed Dangers in the US
After two decades, physicians and scientists have uncovered a grave trend. The same serious health problems found in lab animals, livestock, and pets eating GM foods are now on the rise in the US population. And when people and animals stop eating genetically modified organisms (GMOs), their health improves. This seminal documentary provides compelling evidence to help explain the deteriorating health of Americans, especially children, and offers a recipe for protecting ourselves and our future.'
Where to Watch the Documentary
A quick search on Google will show you that the film is widely available, being freely streamed at many sites. When visiting the film's website you'll see that permission is granted to nonprofit groups and individuals to host a public showing of the film, with no license fee required. A testimonial of the film by author Frances Moore Lappe states 'Genetic Roulette unveils a world most of us have never seen. It raises alarming questions about GMOs, and we deserve answers. For all that you love, hear this message and act now.'
The film has won the Solari's Report 'Movie of the Year' and the 'Aware Guide Transformational Films Viewer's Choice award' in 2012. The film is an hour and twenty-five minutes long and has a 7.0/10 rating on IMDB.
Genetic Roulette – The Criticism
Joe Entine, a writer and public relations professional, has accused Jeffrey Smith of being "an activist with no scientific or medical background". Both Michael Specter, a writer for the 'New Yorker', and Bruce Chassy, a molecular biologist, and food scientist, have questioned the appearance of Smith on the Dr. Oz show and the fact he was described as a 'scientist'. Chassy wrote to the show claiming Smith's "only professional experience prior to taking up his crusade against biotechnology is as a ballroom-dance teacher, yogic flying instructor, and political candidate for the Maharishi cult's natural-law party."
Want to learn how to play roulette games? Check out our How to Play Roulette page here.