In Red We Trust Betting System
There are many online roulette strategies and systems available for betting and some can be used across different forms of gambling. What is the most successful roulette strategy? Read on…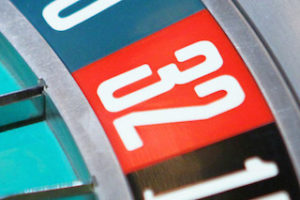 "In Red We Trust" system is one specifically designed for use at the roulette wheel. Many betting systems in roulette are based upon a number of spins, with the stake changing depending on the result of these spins. This system is designed for standalone spins, with a large amount of coverage of the betting outlay. We find it perfect for playing roulette online.
In this article, I explain how this system works and then break down how much you'll win or lose when hitting certain areas of the roulette table. I'll then look into the advantages and the disadvantages of this winning roulette system. Finally, I will finish with an overview of good roulette strategy of using roulette bankroll management.
'In Red We Trust' Betting System – Explained
At first look, this roulette winning system can look somewhat complicated, as you'll be placing bets totaling 25 units at the table. It is advisable to use this system at a European table, as the game features just one zero.
The breakdown of bets you need to place on the roulette table:
Bet 1: 1 unit on 0
Bet 2: 5 units on the first dozen
Bet 3: 5 units on black
Bet 4: 1 unit on each red number in the second and third dozen
Bet 5: 1 unit on the 16/19 split and one unit on the 18/21 split
Remember: It is best to use with European roulette as the house edge is the smallest
Since it is a little complicated it would be advisable to either try this system at a free roulette table or for very low stakes before playing for your normal amount in case you need some time to practice.
There are many casino sites where you'll be able to play for free without even signing up. We recommend Bovada.lv for the US-based players or Betway.com for the international players.
'In Red We Trust' – Roulette Payouts
For this payout chart, I'll assume you have placed the bets to a $1 unit stake, meaning an overall outlay of $25. I have also added the number of slots this result covers in brackets.
'In Red We Trust' – Roulette Payouts
Result
Return
Profit
0 (1)
$36
$11
Black numbers in first dozen (6)
$25
Level
Red numbers in first dozen (6)
$15
-$10
Black numbers in 2nd/3rd dozen (12)
$10
-$15
16, 18, 19 or 21 (4)
$54
$29
Other red numbers in 2nd/3rd dozen (8)
$36
$11
Winning Roulette System – Advantages
At first, look, although you'll be placing 25 units on every spin, you will always have a return. Another fact you might notice is that you'll only make a loss on 18 of the numbers, and with a European wheel featuring 37 slots; this means you'll make a loss less than half the time. The other thing you might notice is that the biggest wins outdo the biggest losses by almost 2 to 1.
Did you know? This is roulette betting system is for individual spins. It means that you won't find yourself in a position where you'll be betting amounts that might be uncomfortable in case you lose
Another advantage when using this roulette strategy what works for playing roulette online for real money is that once you set up the bets, which can take a little while you'll be able to save your betting set up and just repeat over and over – taking out perhaps the most complicated part of the process.
Unlike other systems, this is for individual spins only, meaning you won't find yourself in a position where you'll be betting amounts that might be uncomfortable with – so you'll be able to play sessions for the length of time YOU choose.
Winning Roulette System – Disadvantage
You'll notice that if you hit a black number in the second or third dozen, you'll suffer a loss of 15 units.
Unfortunately, this big loss will happen more often any other result – 12 times. You'll also make a ten unit loss on another six occasions (red numbers in the first dozen). In fact, you'll only actually make a profit on 13 of the 37 numbers.
If you were to put all of these numbers into a spreadsheet, you'd find your expectation is that each spin would make a loss of 2.7%, which is exactly the house edge in European Roulette
Roulette Bankroll Management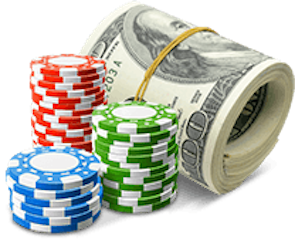 You may use the winning roulette betting system plus use the best roulette bet combination but the roulette strategy that works revolves around proper bankroll management. The biggest mistake we see is when new roulette players wager more than necessary before getting comfortable with playing roulette for real money. We recommend reading our primer to bankroll management to avoid an early departure from the roulette table due to loss of all your money.
'In Red We Trust' Betting System – Overview
Roulette is an enjoyable game and one way to make it even more enjoyable is to employ the use of a system. This betting strategy is certainly interesting and offers something different. You'll experience that nice feeling of receiving chips after every spin and you gain a nice extra if hitting 16, 18, 19 or 21. In any form of roulette, you'll always be at the mercy of a house edge, so in the long run, you'll not be able to beat the house, so systems should be used for fun.